NAAS AGM 2015 Sat. 7th Nov.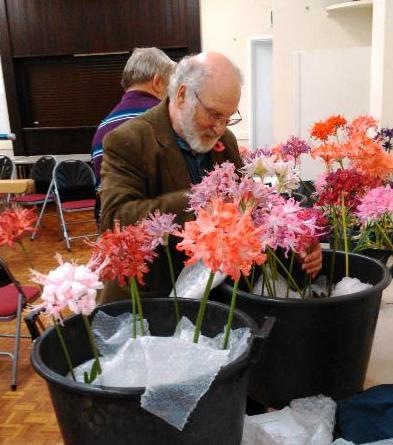 NAAS President, Nicholas de Rothschild, arranging some of his magnificent Nerine Sarniensis plants raised at Exbury and brought for exhibition at the meeting ...........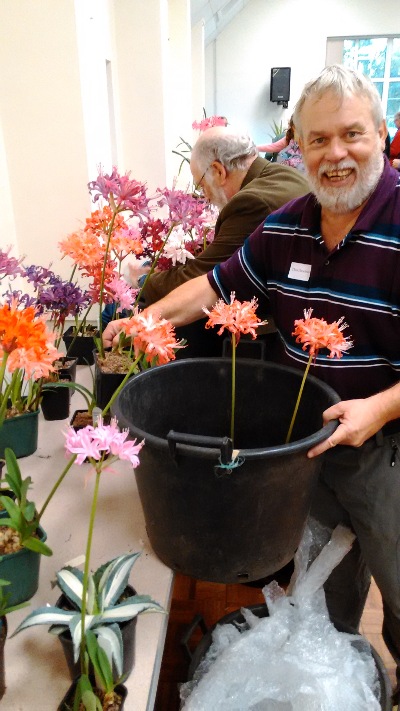 .......... ably assisted, in both the growing and the arranging, by Theo Herselman!!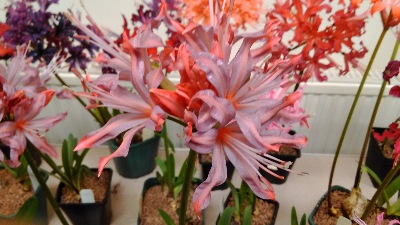 More Exbury blooms.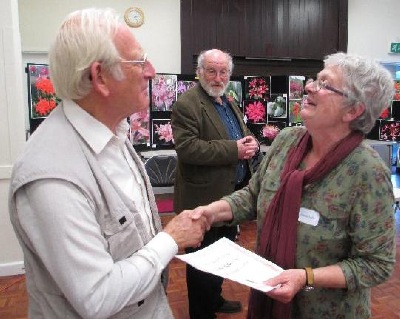 Chairman, Joanna Sadler, congratulating member Robin Alabaster on winning the best Amaryllid Nerine competition.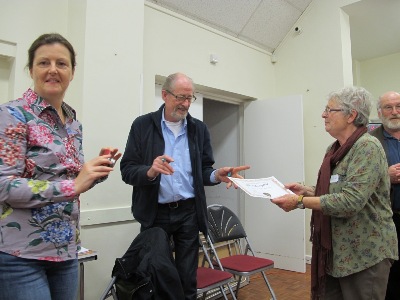 Joanna, herself, being awarded the prize for Best Non-Nerine Amaryllid by retiring Secretary Mike Garrett.

Also, in the foreground, our Archivist and journal Editor, Caroline Stone.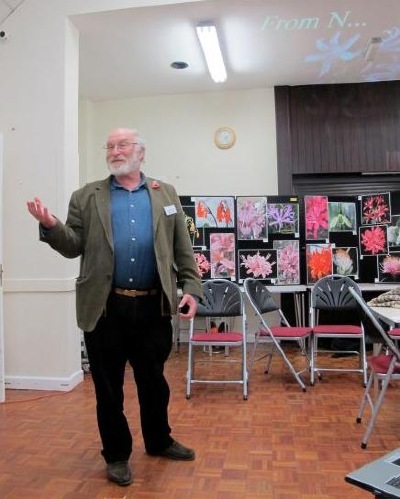 Nicholas announcing the winners of his Amaryllid photograph competition. The entries, on the boards behind him, had been displayed in the Five Arrows Gallery at Exbury, where the visiting public had been invited to cast their votes for their favourite.



The Prize-winning photo taken by Emma Callan, who works in the Exbury glasshouses. Using her mobile phone, she has captured beautifully the wonderful glitter found on the petals.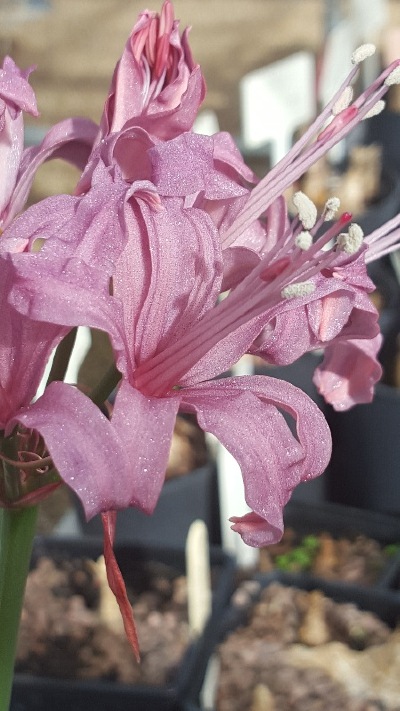 Nerine Sarniensis 'Lavender Dust'.


The Isle of Wight Sunday 18th Oct.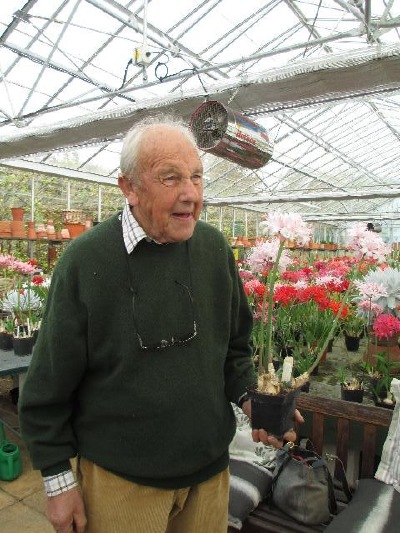 Ken Hall showing visitors a well-grown Nerine Sarniensis 'Veronica Butler'.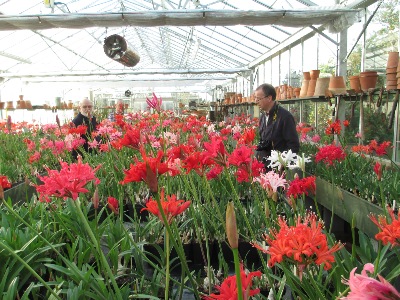 NAAS members admiring more N. Sarniensis in Ken's glasshouse ..........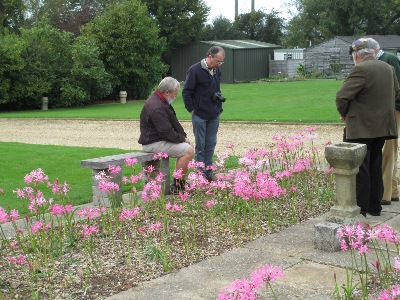 ......... and also examples of the hardy Nerine Bowdenii growing outside.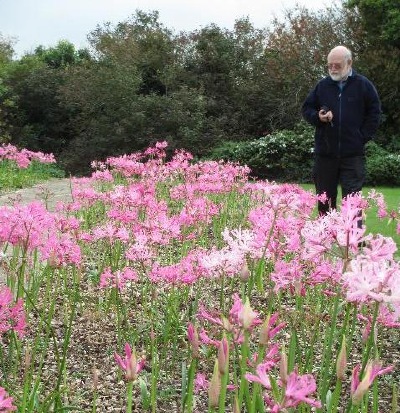 An impressive display of the N. Bowdenii being grown by Ken.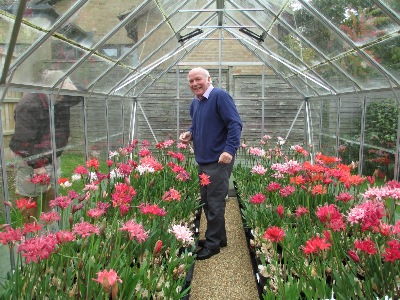 Chris Edwards also welcomed visitors to view his Nerine Sarniensis.









More of Chris' stunning plants, always immaculately presented.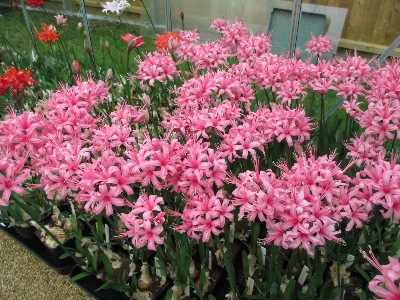 A beautiful group of N. Sarniensis 'Stephanie' - an Award of Merit variety raised at Borde Hill.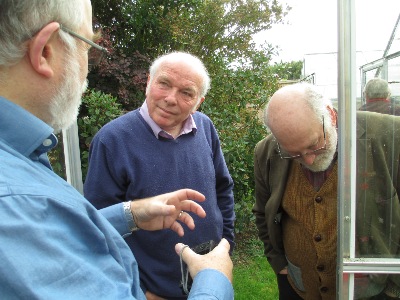 Deep in discussion - three expert growers, l-r Andrew Lanoe, Chris Edwards & Nicholas de Rothschild.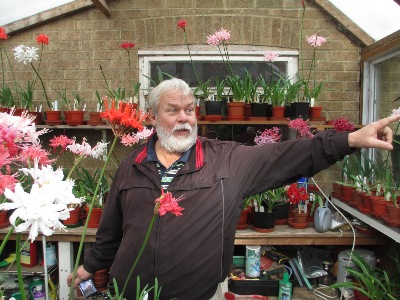 Everyone, including Theo Herselman pictured here, was very impressed by the quality of the blooms when visiting Howard Batchelor, another member on the Isle of Wight, .......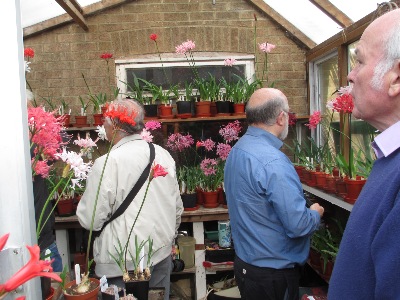 ........ proving yet again that success with nerines can be achieved on a small scale as well as in large glasshouses.

Exbury Gardens Saturday 17th Oct.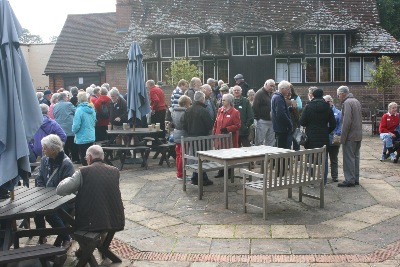 NAAS members and other visitors eagerly awaiting their preview of this year's exhibition in The Five Arrows Gallery.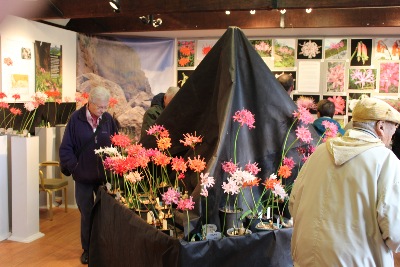 Inside the Gallery. A chance to admire the magnificent Nerine Sarniensis blooms and the opportunity to view and vote for a favourite entry in the Photographic competition.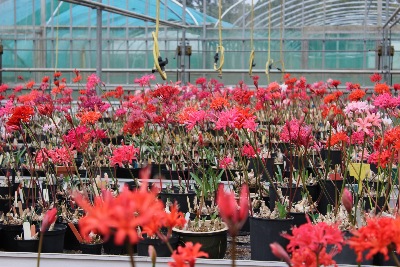 Just some of the many glorious Nerine Sarniensis growing in the vast glasshouse.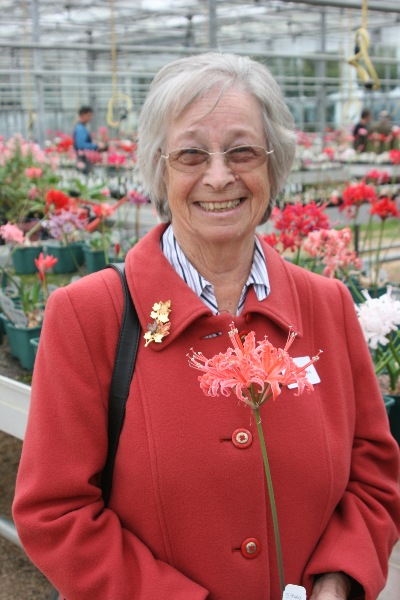 Margaret, the wife of our Committee member Roy Prior, holding the N. Sarniensis bred by Nicholas de Rothschild and named by him in her honour.

West Country Visits 10th and 11th Oct.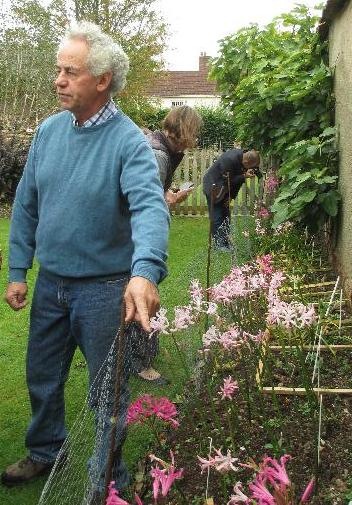 NAAS member, Steve Eyre, at Bickham, Devon, has now been awarded National Collection status for Hardy Nerines as well as for his Nerine Sarniensis collection.



Many congratulations to Steve on this achievement!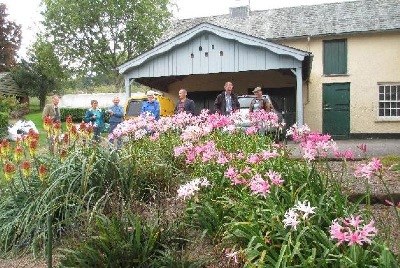 A group of NAAS members admiring some of Steve's beautiful Amarine Belladiva.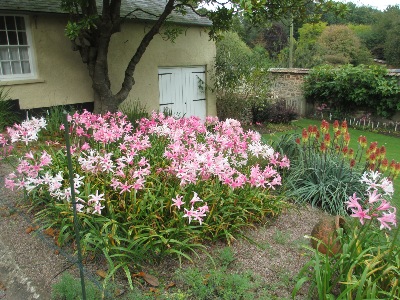 More Amarine Belladiva in Steve's garden.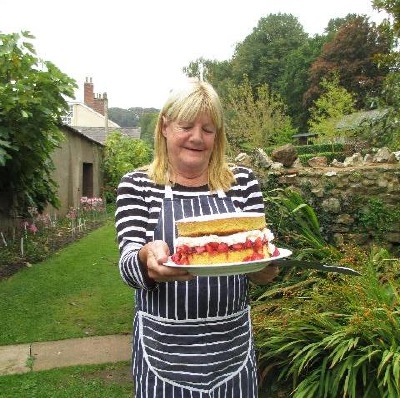 A visit to Steve's isn't just about the plants ..... Lynne's famous strawberry cake was much appreciated!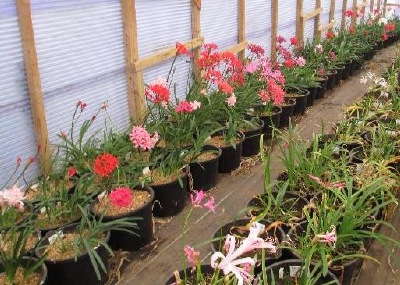 In Cornwall, NAAS member John Sirkett grows an interesting selection of Amaryllids including many colourful Nerine Sarniensis ...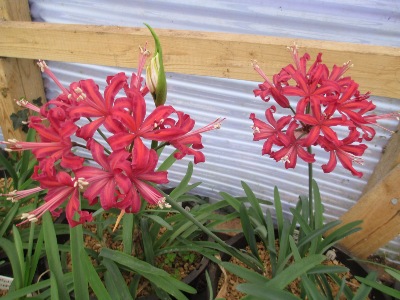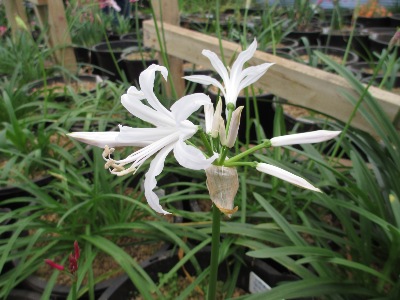 ... white Nerine Bowdenii .......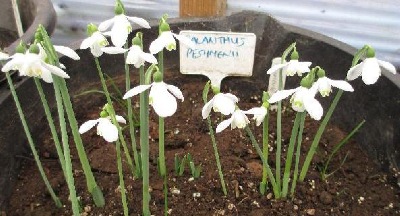 ... and yes, snowdrops, which are also part of the Amaryllid family.

This is the autumn-flowering Galanthus Peshmenii.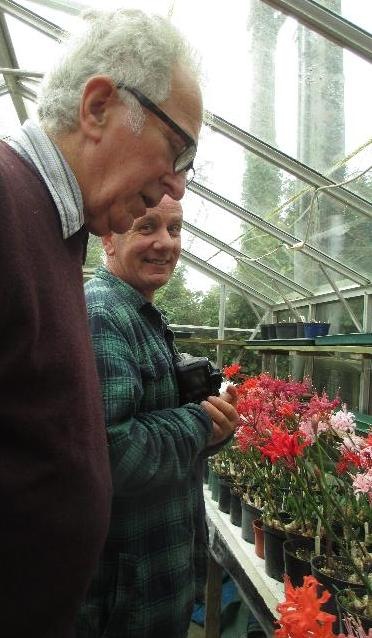 Still in Cornwall, Andrew Tompsett and John Sirkett admiring some of Andrew's Nerine Sarniensis.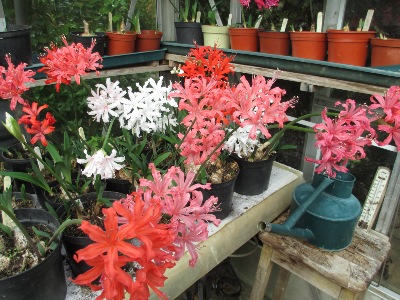 A colourful corner in Andrew's glasshouse.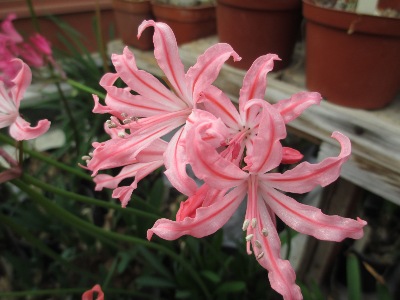 A small selection of Andrew's blooms, showing some of the range of colours, patterns and forms of petal found in Nerine Sarniensis.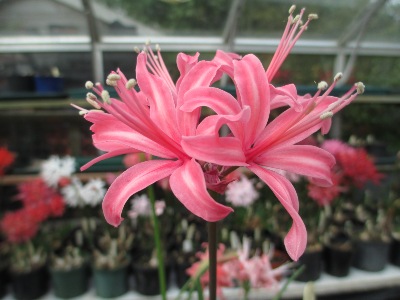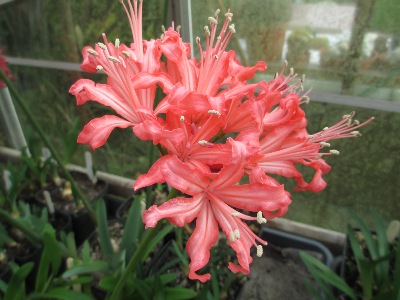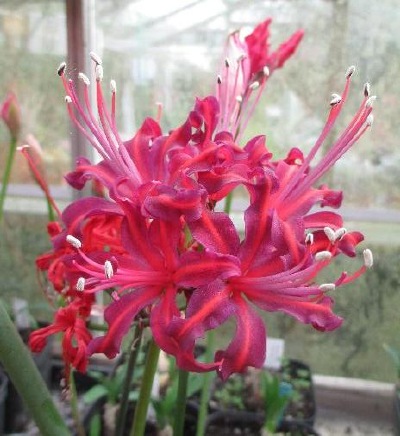 Malvern Autumn Show

Another Gold Medal!

Congratulations to our hard working team who managed to impress the judges yet again with their superb display.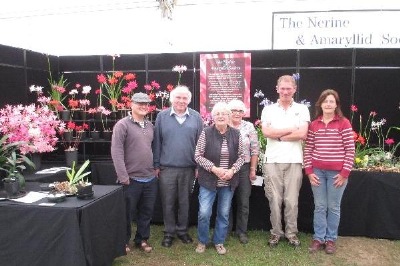 Left to right: Malcolm Allison, Chris Edwards, Joanna Sadler, Sue Bedwell, Jonny Hartnell and Caroline Stone.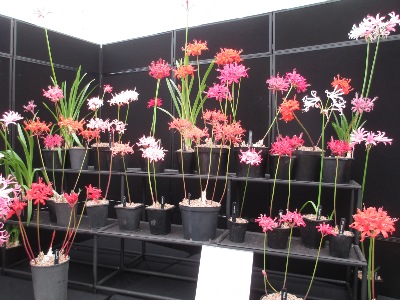 A colourful collection of Nerine Sarniensis, achieved in spite of this year being marked by their flowering season starting later than usual.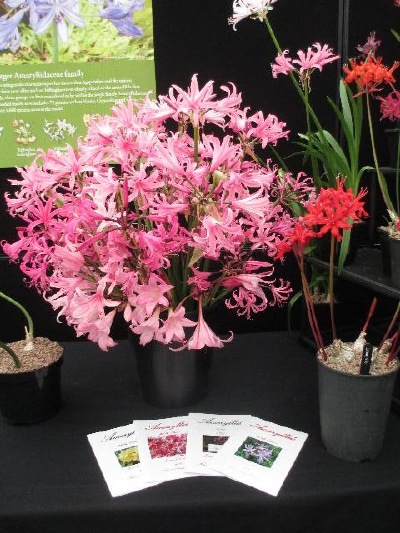 A beautiful arrangement of N. Bowdenii and Amarine Belladiva.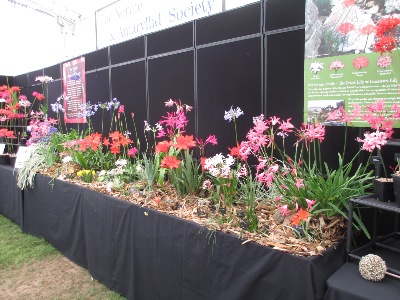 Other Amaryllids were represented by this colourful display ..........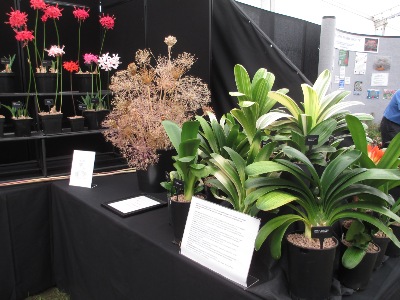 .................and a collection of Clivia showing interestingly varied foliage with behind, an arrangement of Allium seed heads.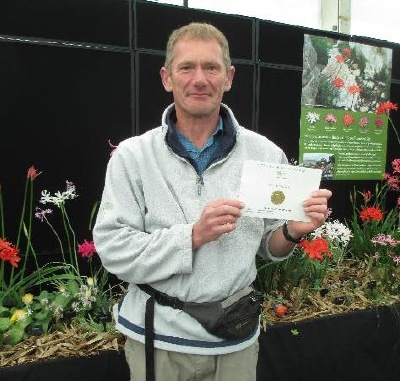 And the medal - proudly displayed by team member Jonny!

Other NAAS members also gained Gold or Silver-Gilt Medals at the Malvern Show, to add to those already won at Chelsea in several cases!

Congratulations to:

Chris and Lorraine Birchall at Tale Valley,

Steve Hickman and Hoyland Plants,

Chris Osbourne at Kelnan Plants,

Ross Barbour with the Picton Gardens.

Chelsea Flower Show

Congratulations to the following NAAS members who won Gold or Silver-Gilt Medals at this year's Chelsea Flower Show:

Chris and Lorraine Birchall at Tale Valley,

Steve Hickman at Hoyland Plant Centre,

Chris Ireland-Jones of Avon Bulbs,

Chris Osbourne at Kelnan Plants.

If there are others who have been missed from this page, many apologies - and please let us know about them!

Lachenalia Day at Exbury 14th March


(Although Lachenalia are not Amaryllids, they are grown by many of our members. They complement ideally the cultivation of Nerines by requiring similar conditions but flowering in Spring, not Autumn.)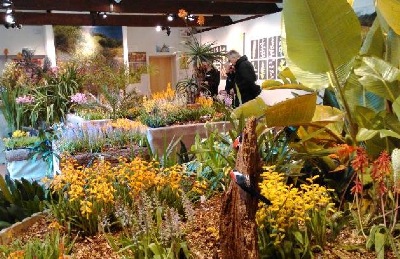 A view of this year's stunning display in the Five Arrows Gallery.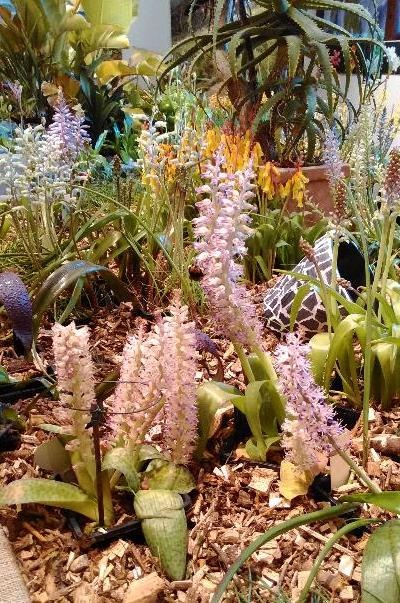 Lachenalias in close-up.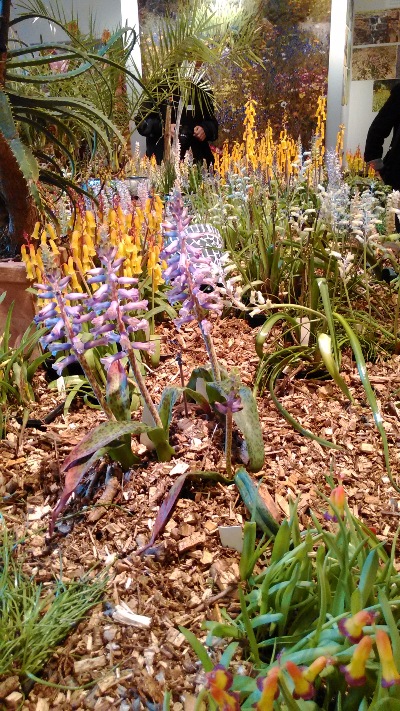 More Lachenalias.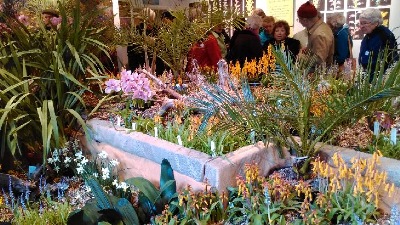 Orchids and other Southern African bulbs were also part of the display.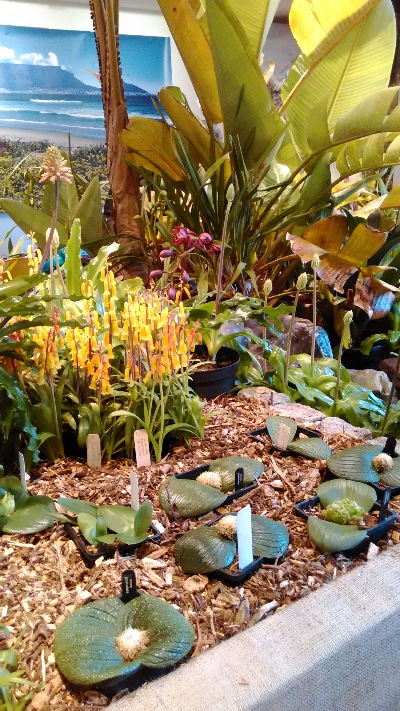 Lachenalias with massonia pustulata in the foreground.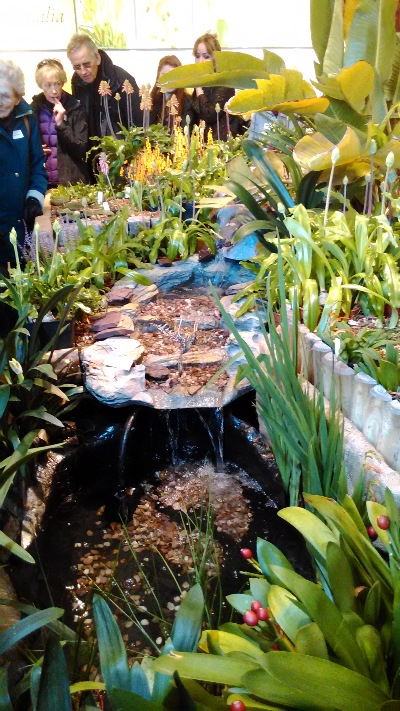 A water feature added to the interest.

The exhibition included beautiful photos of South African landscapes, flora and fauna, a number produced by Nicholas de Rothschild himself ......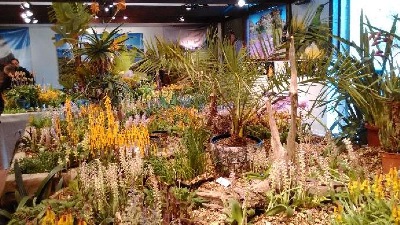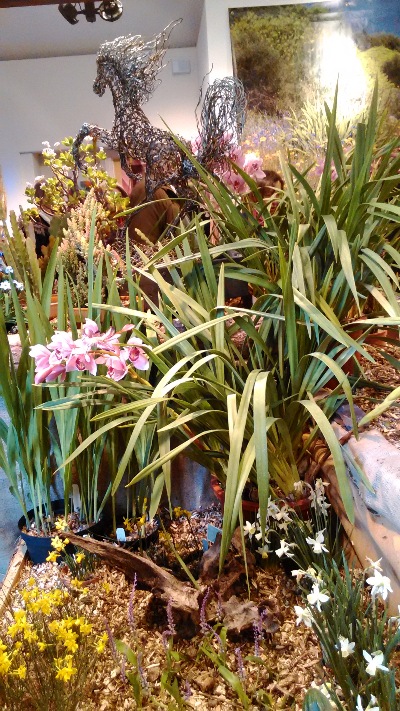 ...... and a selection of interesting sculptures by local artist Long Li.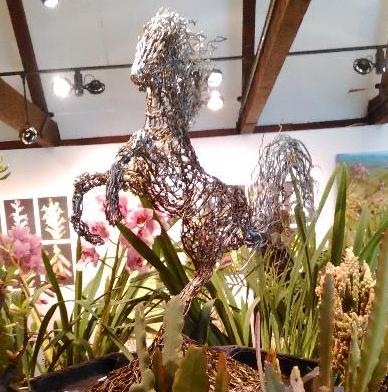 Long uses recycled materials such as wire coat hangers,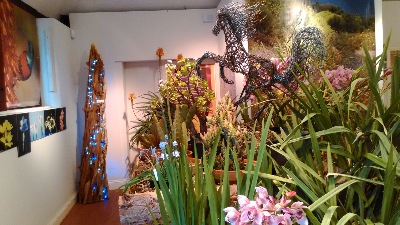 driftwood and other natural woods with the addition of various forms of lighting ......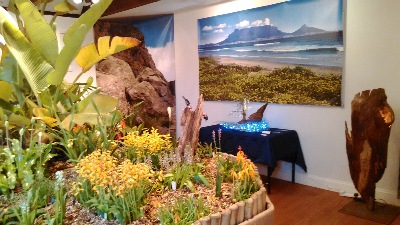 ......... to produce pieces of decorative art, some functional, all unusual and fascinating.