NAAS AGM 2014

A well-attended and enjoyable meeting was held at Holton Village Hall near Oxford on Sat.1st Nov.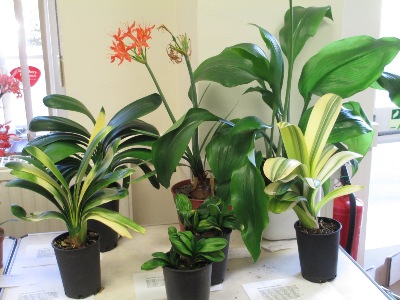 As well as bringing plants for entry in the Beauty Contest, some members just wanted to exhibit and share their own favourites.




An exciting collection of fine examples of different types of Clivia.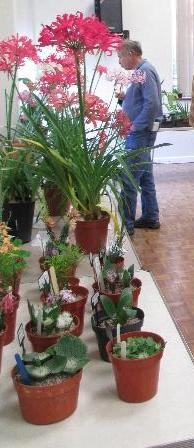 In the foreground, a beautiful collection of Winter-flowering South African plants.




The tall, deep pink Nerine just behind is one of the very latest new Dutch N. Bowdenii introductions and, with it, other entries in the Beauty Contest.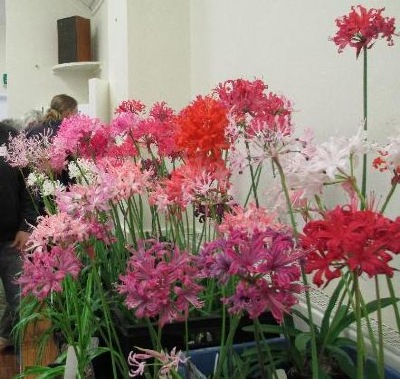 Some stunning examples of Nerine Sarniensis blooming at Exbury this Autumn.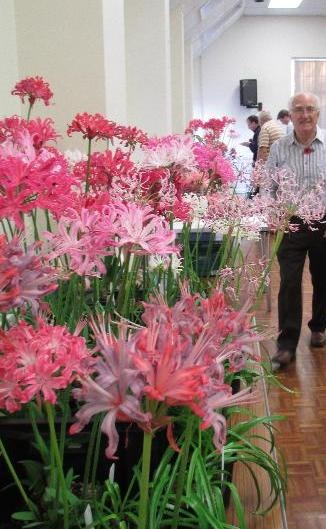 More beautiful Nerines from Exbury.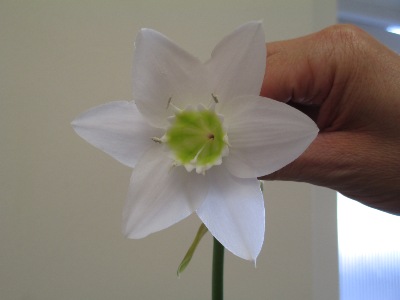 The Eucharis Amazonica belonging to Alison Corley which was voted 'Best Non-Nerine Amaryllid'.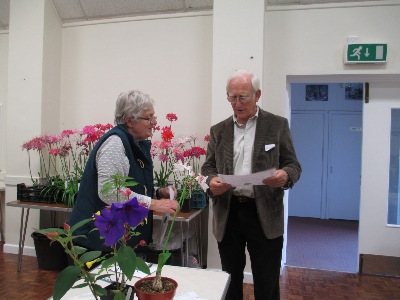 New Chairman, Joanna Sadler, presenting the award for Best Nerine to Robin Alabaster for his Nerine Sarniensis 'Smokey Special'.

Visit to view Nerines of Ken Hall and Chris Edwards on the Isle of Wight, Sun. 19th Oct.







A riot of colour in Ken's glasshouse.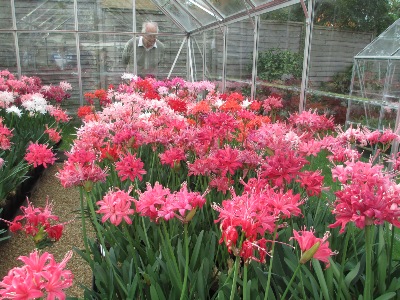 Just some of Chris's stunning Nerine Sarniensis.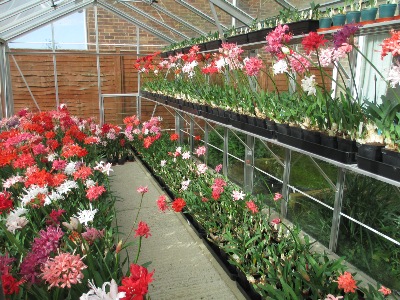 Another greenhouse, more beautiful blooms from Chris ....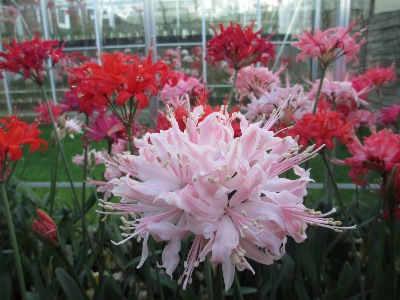 ....... and one in close - up.

Exbury Sat. 18th Oct.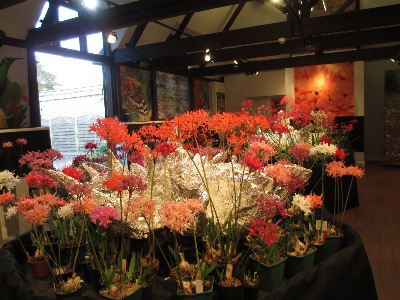 Overall view of this year's stunning display in the Five Arrows Gallery.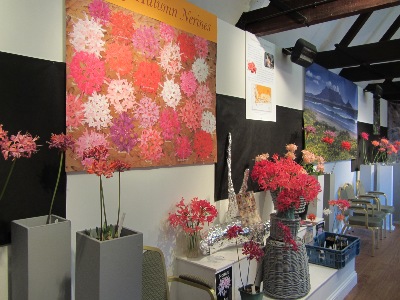 Part of the display showing a vase (in the basket) from Holland of the very latest Dutch Belladonna Nerines.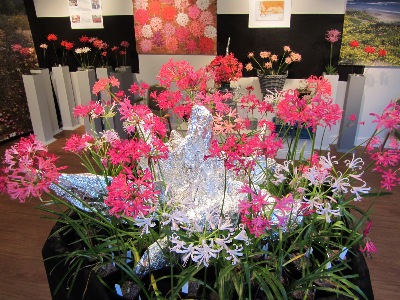 A display of the latest Dutch Bowdenll Nerines which introduce shades of colour previously unseen.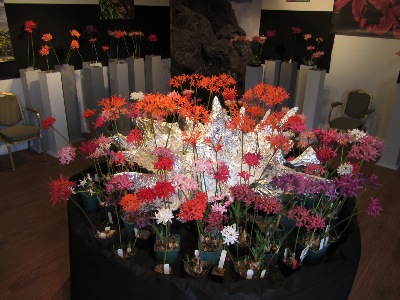 A display of Nerine Sarniensis showing off their wide range of glittering colours.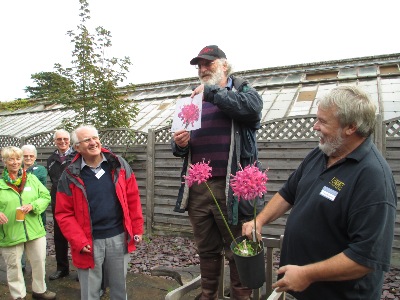 Our President Nicholas de Rothschild introducing one of his new Nerines which he has named 'Roy Prior' after our hard-working Committee member!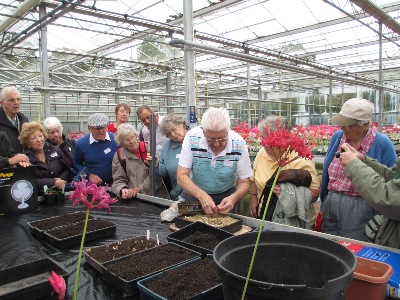 Former NAAS Chairman, Andrew Eames, demonstrating the twin-scaling method of propogation to interested members and visitors in the Exbury glasshouse.

Visit to Bramdean House to view the Hardy Nerine trial beds Fri.17th Oct.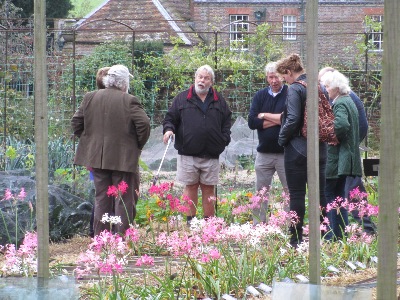 Examining the plants, which are forming part of the RHS Trials, are (from left) Nicholas de Rothschild and Theo Herselman of Exbury, with visitors from The Netherlands and
owner, Victoria Wakefield.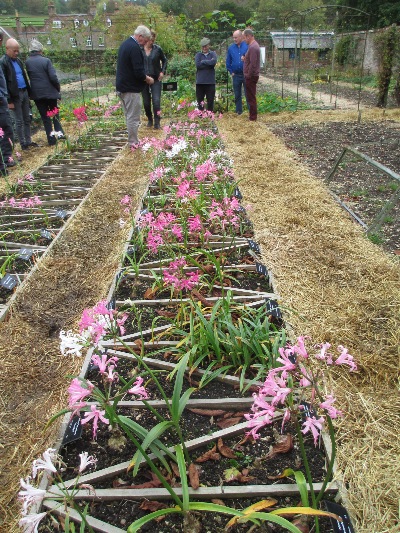 Trial beds containing Nerine Bowdenii.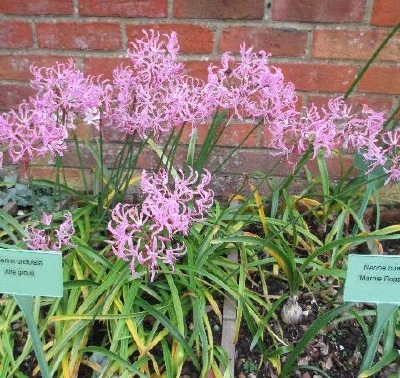 Blooms of Nerine Undulata.

West Country Visits 11th & 12th Oct.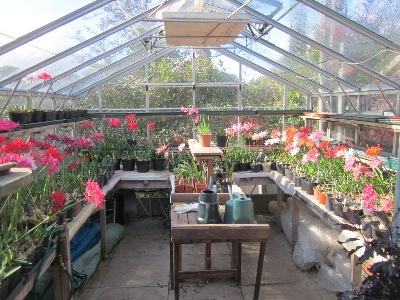 The first visit was to Andrew Tompsett, in Cornwall.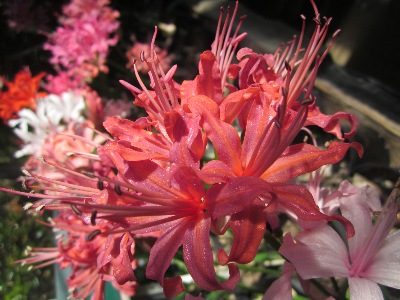 A beautiful seedling bred by Andrew.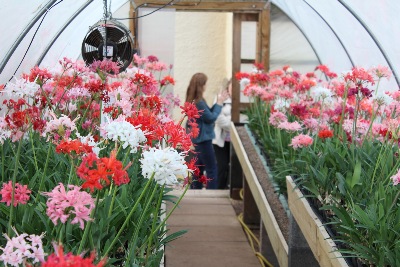 The second visit was to Bickham House in Devon where Steve Eyre holds a National Collection of Nerines, including many originally part of Ken Hall's collection.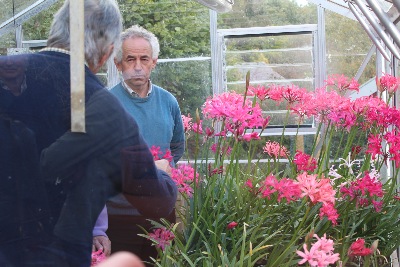 Steve in discussion with Keith Wiley of Wildside Garden and Nursery.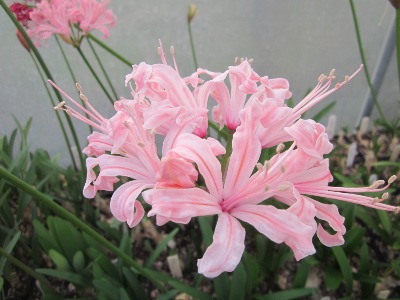 Nerine Mottistone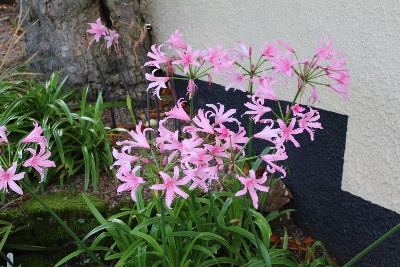 X Amarine at Bickham.

Malvern Autumn Show 2014

Another magnificent effort by the NAAS team resulted in the award of a Gold Medal for the second year running!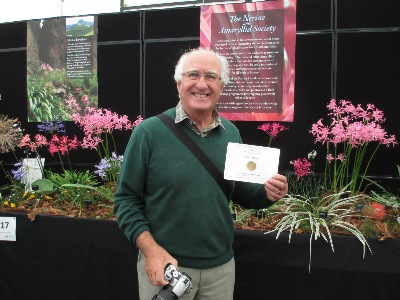 Team member Roy Prior proudly holding the well-deserved Gold Medal.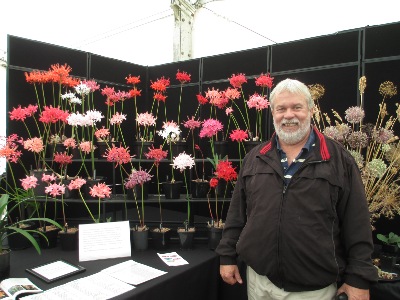 The stunning display included beautiful examples of Nerine Sarniensis, seen here with Theo Herselman from Exbury Gardens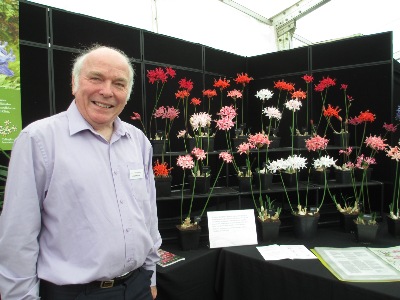 and Chris Edwards from the Isle of Wight,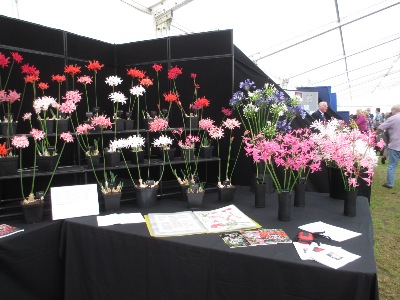 Nerine Bowdenii,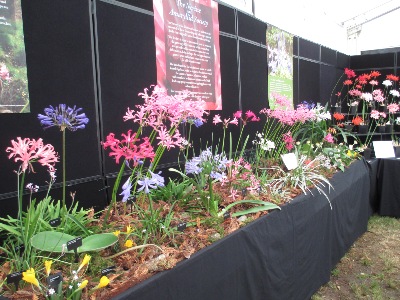 as well as other Amaryllids including Agapanthus and Brunsvigia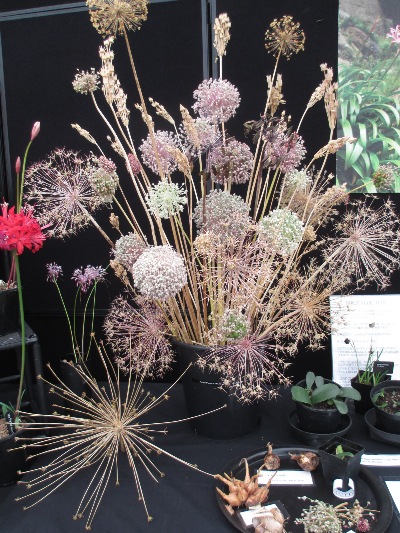 and an elegant display of Allium blooms and seed heads.

Visit to Fairweather's Agapanthus Nursery, Beaulieu, Hants. July 24th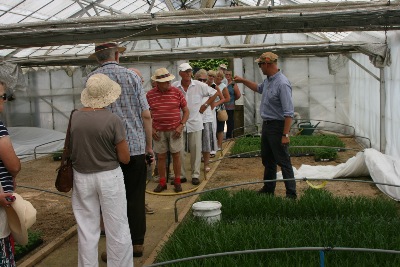 Patrick talking to the group.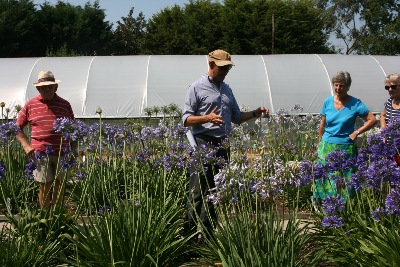 Looking at the National Collection.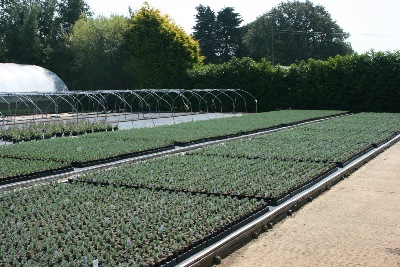 Look how pristine everything is!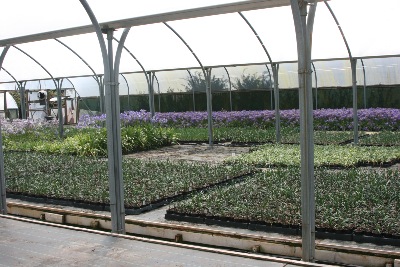 In just one of the tunnels.

Lachenalia Day at Exbury March 15th.



(Although Lachenalia are not Amaryllids, they are grown by many of our members. They complement ideally the cultivation of Nerines by requiring similar conditions but flowering in Spring, not Autumn.)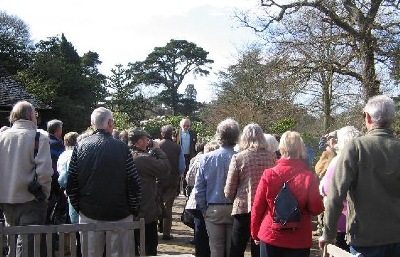 In the sunshine outside the Five Arrows Gallery, our President, Nicholas de Rothschild welcomes members of NAAS and other local gardening groups .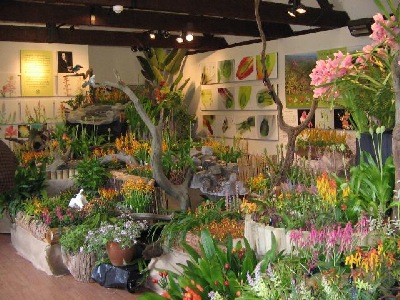 Inside the Gallery, this year's magnificent display by our President and Theo Herselman.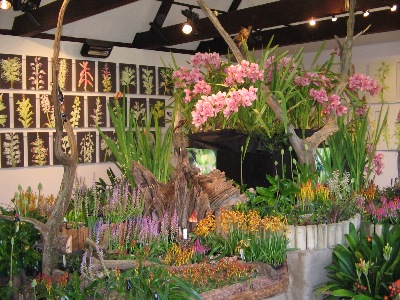 Displayed on the walls in the background of this and the following pictures are amazingly detailed photographs taken by Nicholas de Rothschild of selected flowers and parts of flowers in his collection.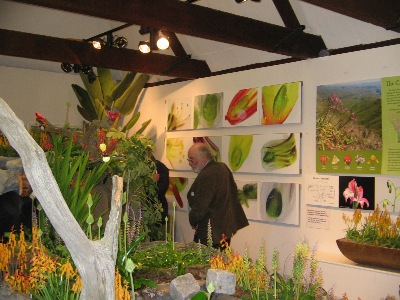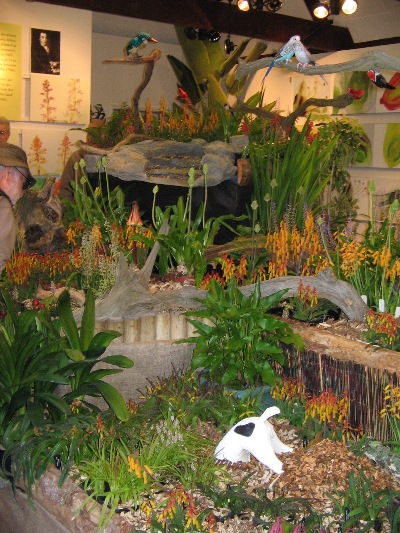 Unexpected fauna amongst the flora!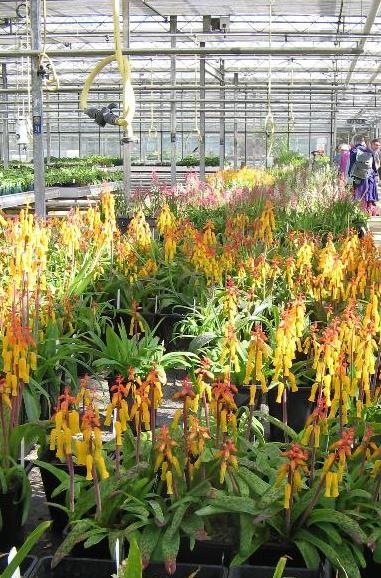 In the glasshouse, more Lachenalia to admire ...............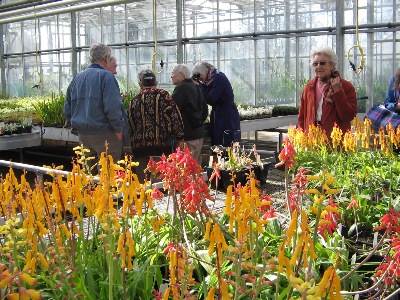 ....... and discuss.