NAAS AGM 2013

Following the recent inclusion of Agapanthus within the Amaryllid family, Steve Hickman of The Hoyland Plant Centre, S.Yorks, was invited to be our speaker. His talk on the care and propagation of Agapanthus was most interesting and practical, with examples of his plants and demonstrations of techniques.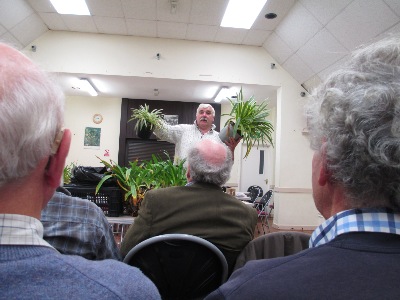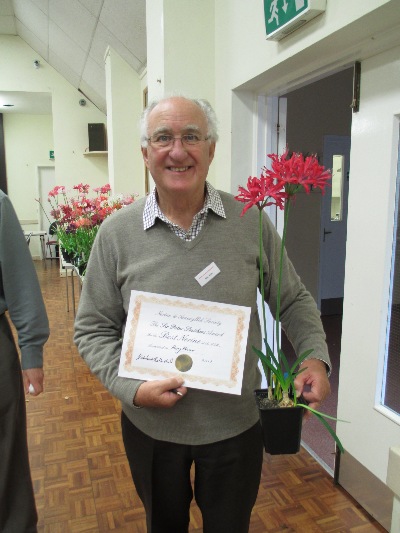 In the Plant Beauty Contest, Roy Prior's Nerine Sarniensis Jewel B was judged Best Nerine .........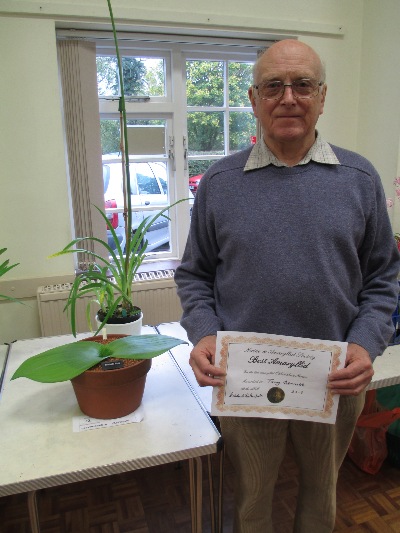 ....... and Tony Bennett's Whitheadia Bifolia was voted Best Non - Nerine.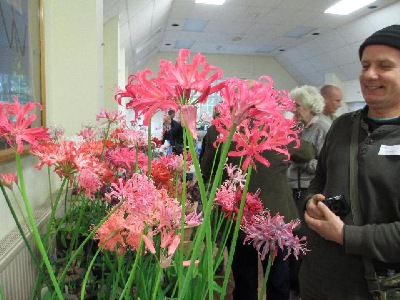 Members were able to inspect and admire examples of Nerines which our President brought from his collection at Exbury.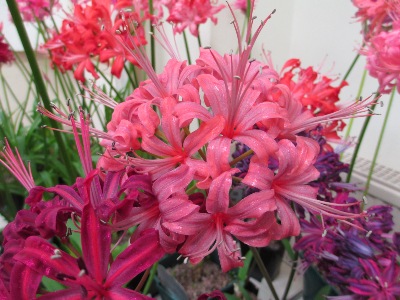 Exbury Gardens 2013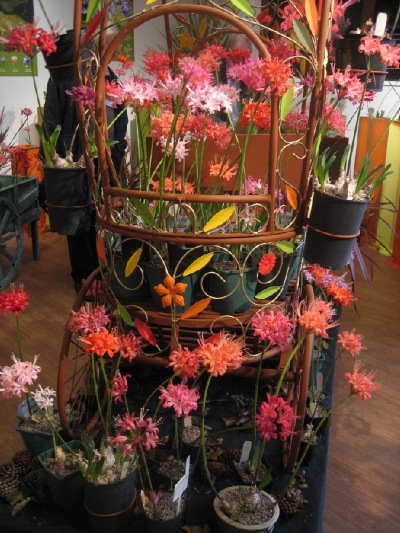 In The Five Arrows Gallery, as in previous years, a stunning display of Nerine sarniensis, thanks to the hard work of our President, Nicholas de Rothschild, and Theo Herselman.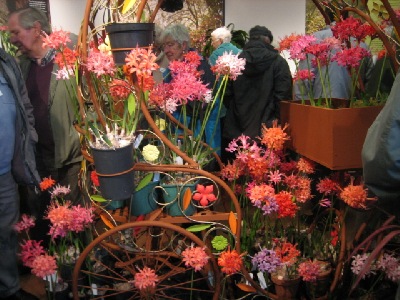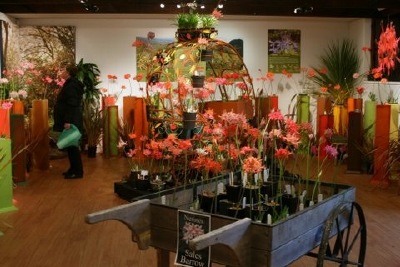 Plants available for purchase on the Sales Barrow.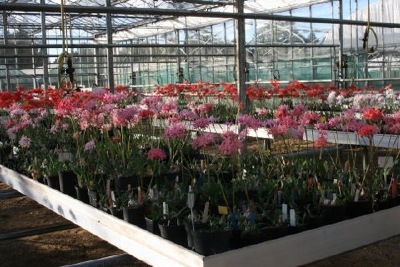 Nerine sarniensis flowering in the huge glasshouse at Exbury.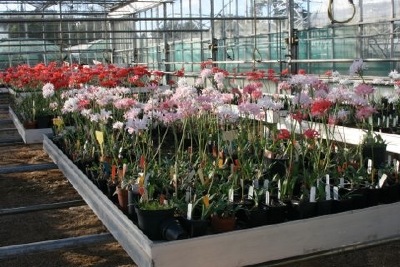 Existing varieties are nurtured and new are constantly being developed here.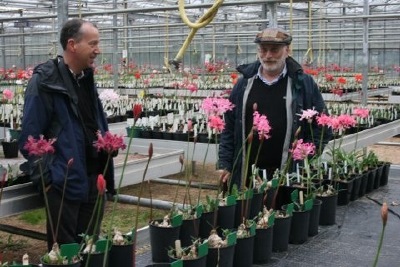 Our President (r) with member, Dr. John David, viewing plants received as part of an exchange with a nursery in Japan.

Visits to other collections of Nerines




Bickham House, S. Devon

Member Steve Eyre, who is gardener at Bickham House, has built up an important collection of Nerine Sarniensis. Three years ago he took on 25% of the Nerines developed over many years by Ken Hall at Springbank Nursery, Isle of Wight. Twelve months ago, Steve provided valuable space for Chris Edwards' seedlings when they needed to be re-homed.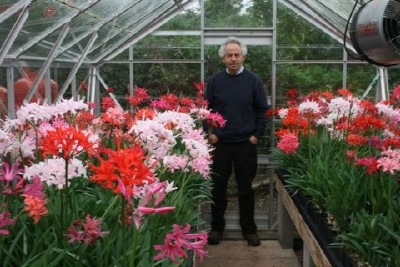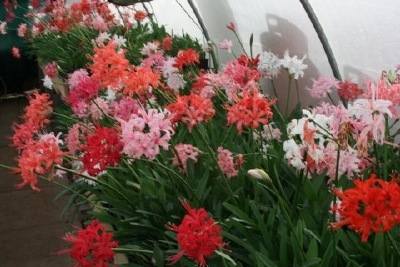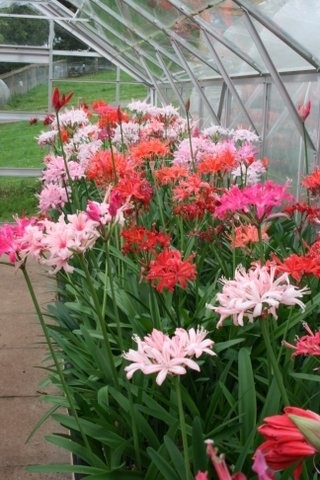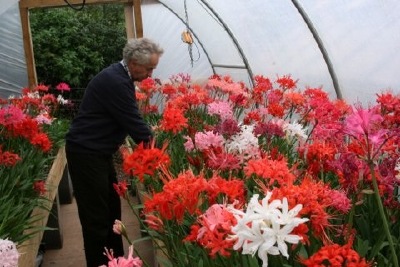 Steve has now received status as Holder of a National Collection.






Meanwhile, on the Isle of Wight .......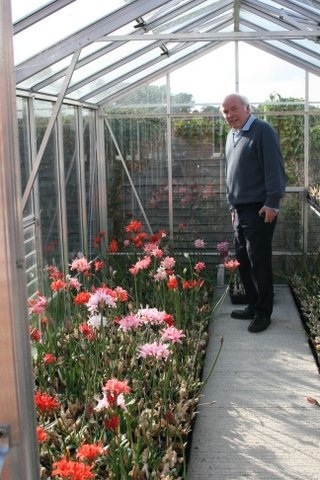 ......Chris Edwards invited members to view his collection of Nerine sarniensis in his numerous greenhouses.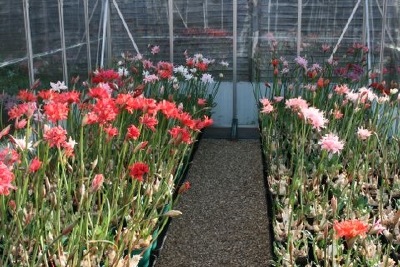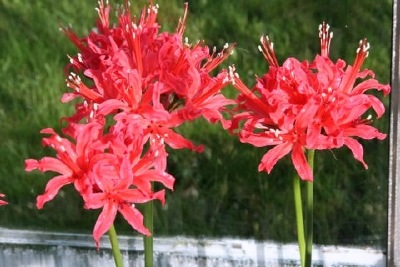 Some of Chris' beautiful blooms.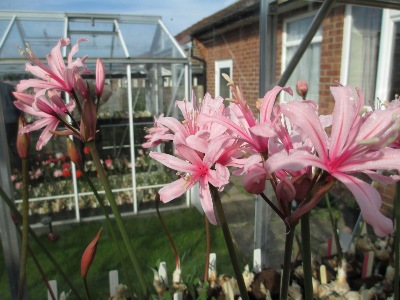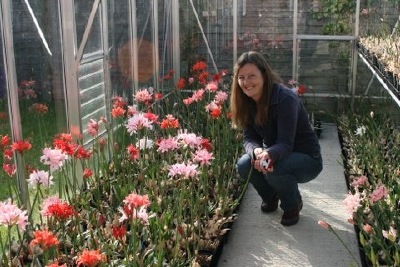 Member Caroline Stone admiring some of Chris' plants.




........ and Ken Hall still has many stunning Nerines for members to admire in a new glasshouse.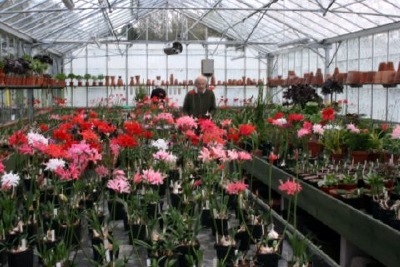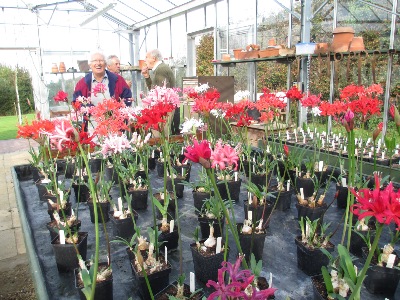 Ken in discussion with Steve Eyre - but what's Roy Prior finding so amusing?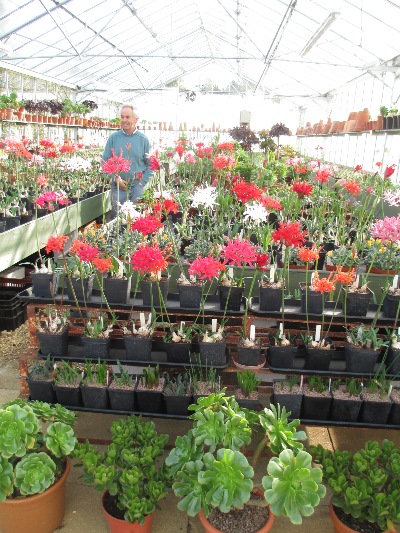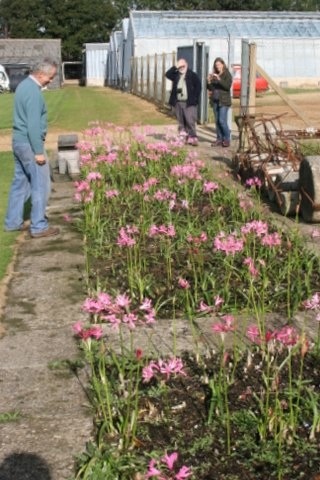 Outside, Ken has beds of Nerine Bowdenii ............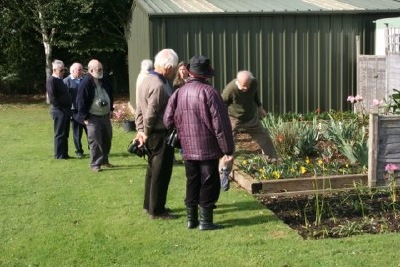 ....... and is creating new beds in order to conduct his own hardiness trials.





Guernsey Nerine Festival 2013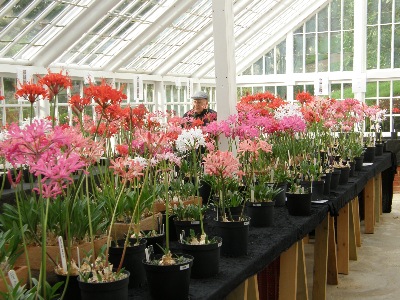 Nerine sarniensis on display in a glasshouse in Candie Gardens, St. Peter Port.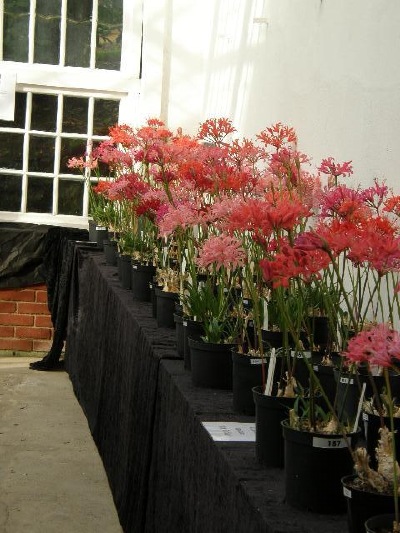 More Nerine sarniensis.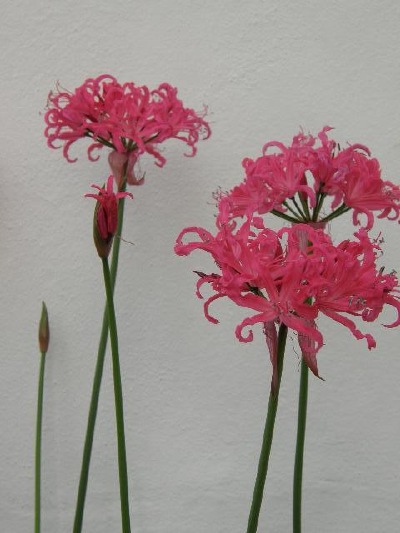 Nerine manselli which is also grown outside in large beds by one of our NAAS members on Guernsey, Hannah Girard.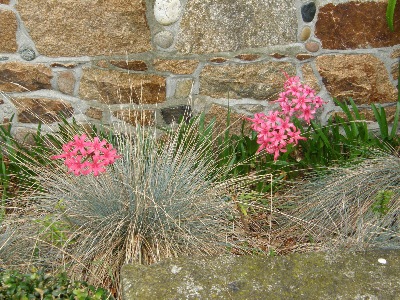 A Lions Head form of Nerine sarniensis which has been growing outside for many years in a sheltered spot.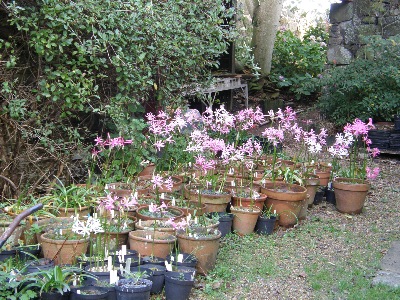 Part of NAAS member Andrew Lanoe's hardy Nerine bowdenii and Nerine hybrids collection.


Many congratulations to our hard-working team who, this year, achieved the coveted Gold Medal Award!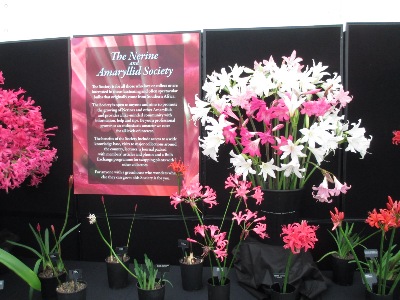 The beautiful display of blooms ........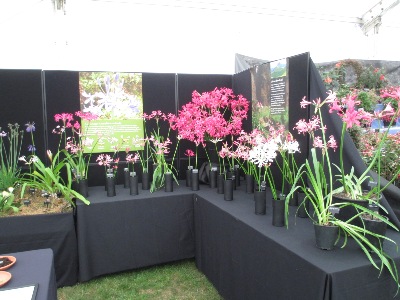 ............included the familiar pinks and whites of Nerines ..........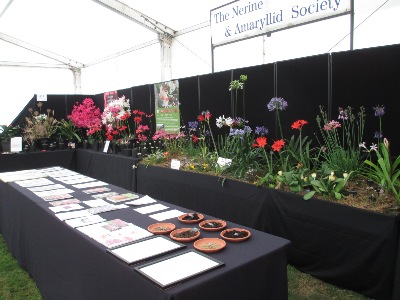 ........ and also, this year, the contrasting blues of Agapanthus .........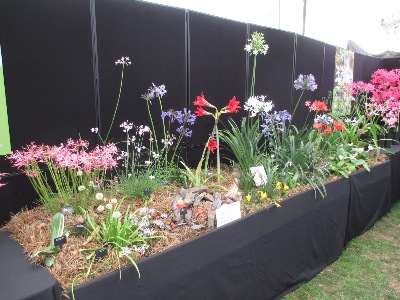 .......... reflecting their recognition recently as Amaryllids.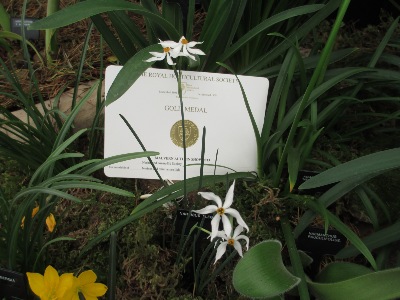 The Gold Medal Award.

Sat.16th March Lachenalia display at Exbury Gardens

The magnificent display in The Five Arrows Gallery featuring Lachenalias being developed and nurtured at Exbury by Nicholas de Rothschild and Theo Herselman.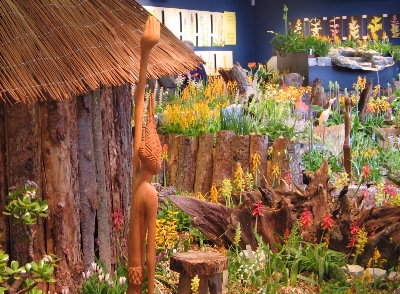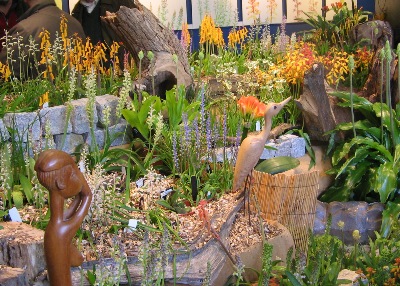 Although not Amaryllids, Lachenalias are grown by many NAAS members.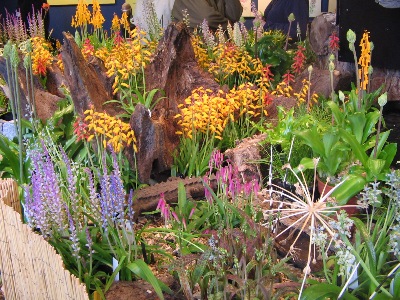 They share very similar growing conditions with Nerines and Hippeastrums but come into flower just as these Amaryllids are ending their flowering season.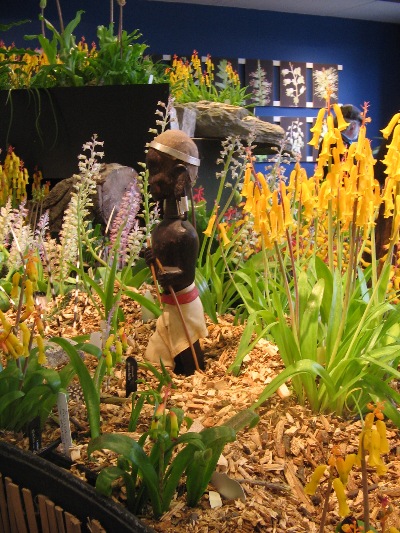 The display of Lachenalias is enhanced by items reminding us of their Southern African origins which they share with Nerines.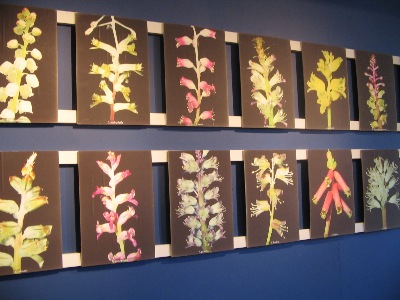 A display of photographs taken by Nicholas, showing in wonderful detail the flowers of Lachenalias in his collection.